Overview
The Achilles tendon runs from the calf muscles at the back of the lower leg and inserts at the back of the heel. A torn achilles can be a partial rupture or a total rupture. A total rupture is more common in men affecting them 10 times more than women. Injury typically occurs 30 to 40 minutes into a period of exercise rather than at the start of a session and nearly always happens from a sudden explosive movement or bending the foot upwards. Many patients are able to continue to function following an achilles rupture due to other muscles compensating although the injured leg will be significantly weaker. There are four key tests which can help diagnose a ruptured achilles tendon.
Causes
The Achilles tendon can grow weak and thin with age and lack of use. Then it becomes prone to injury or rupture. Achilles tendon rupture is more common in those with preexisting tendinitis of the Achilles tendon. Certain illnesses (such as arthritis and diabetes) and medications (such as corticosteroids and some antibiotics, including quinolones such as levofloxacin [Levaquin] and ciprofloxacin [Cipro]) can also increase the risk of rupture. Rupture most commonly occurs in the middle-aged male athlete (the weekend warrior who is engaging in a pickup game of basketball, for example). Injury often occurs during recreational sports that require bursts of jumping, pivoting, and running. Most often these are tennis, racquetball, basketball, and badminton. The injury can happen in the following situations. You make a forceful push-off with your foot while your knee is straightened by the powerful thigh muscles. One example might be starting a foot race or jumping. You suddenly trip or stumble, and your foot is thrust in front to break a fall, forcefully overstretching the tendon. You fall from a significant height or abruptly step into a hole or off of a curb.
Symptoms
Although it's possible to have no signs or symptoms with an Achilles tendon rupture, most people experience pain, possibly severe, and swelling near your heel, an inability to bend your foot downward or "push off" the injured leg when you walk, an inability to stand on your toes on the injured leg, a popping or snapping sound when the injury occurs. Seek medical advice immediately if you feel a pop or snap in your heel, especially if you can't walk properly afterward.
Diagnosis
A consultation and physical exam with a qualified musculoskeletal expert is the first step. X-ray or MRI scanning may be required for a diagnosis. Once a rupture is diagnosed it should be treated to prevent loss of strength and inadequate healing.
Non Surgical Treatment
The most widely used method of non-surgical treatment involves the use of serial casting with gradual progression from plantar flexion to neutral or using a solid removable boot with heel inserts to bring the ends of the tendon closer together. The advantage of a solid removable boot is that it allows the patient to begin early motion and is removable. Wide variability exists among surgeons in regards to the period of absolute immobilization, initiating range of motion exercises, and progression of weight bearing status.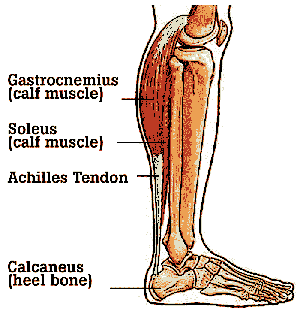 Surgical Treatment
Immediate surgical repair of the tendon is indicated in complete tears. Delaying surgery can lead to shortening of the tendon, formation of scar tissue and decreased blood flow, which can lead to a poor outcome. Following surgery your ankle will be put in an immobilizing device and you will be instructed to use crutches to limit weight bearing and protect the joint. Over the next 2-4 weeks weight bearing will be increased and physical therapy will be initiated. The surgeon will determine the physical therapy timeline and program. Physical Therapy, Treatment will emphasize gradual weaning off the immobilizing device, increased weight bearing, restoration of ankle range of motion and strengthening of the lower leg muscles. It is important that the physician and therapist communicate during the early stages and progress your program based on the principles of healing so as not to compromise the Achilles tendon. Patient will be progressed to more functional activities as normal ankle range of motion and strength is restored.